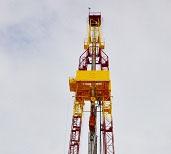 Rosneft and Statoil commenced testing of two production wells of highly viscous oil of the PK1 layer of the North-Komsomolskoye field.
The companies are implementing pilot operation of the horizontal wells constructed using best practices related to inflow control and consolidation of entrained solids.
Average starting flowrate amounts to 75 t per day, whilst oil production potential is being estimated over 100 t per day for one well. Such results demonstrate strong synergy effect of the experience and expertise of Rosneft and Statoil.
During the well testing the companies are planning to undertake a complex of studies including hydrodynamic and tracer studies. Also, laboratory investigations of the surface oil samples will be implemented.
Obtained data will be applied in updating of geological structure of PK 1 layer's deposit and further elaboration of the strategy of full-scale development of the North-Komsomolskoye field.