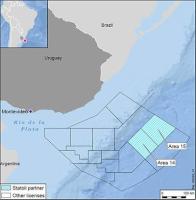 Statoil has signed a farm-in agreement with Tullow to acquire a 35% working interest in offshore exploration block 15 in the Pelotas basin, deepening its position in Uruguay.
"With this transaction, we are increasing our exposure to the upside potential of this untested geological setting. This is in line with Statoil' exploration strategy of access at scale," says Nicholas Alan Maden, senior vice president of Exploration.
Recently Statoil announced its entry into Uruguay as partner in exploration block 14. By accessing the adjacent block 15 Statoil continues to pursue this regional geological trend.