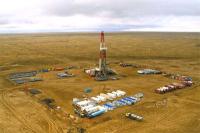 Tethys Petroleum Limited provides the following corporate update to its shareholders.
Highlights •Resolution reached with SinoHan. •Following the greater than 50% reduction of our corporate and regional overheads, further restructuring and costs reductions are on going. •As part of the ongoing strategic review, Tethys remains in an exclusivity period with AGR Energy Limited No. 1 to negotiate a potential larger financing. The exclusivity period runs through to June 12, 2015. •Kazakhstan May production averaged 5,408 boepd, highest since June 2013. •2015 average production to date 4,585 boepd. •Shallow gas well AKK14 successfully brought onto production and work has commenced on the AKK05 gas well. •2D seismic programme in Tajikistan with partners CNPC and Total is progressing well with Phase One on track to complete in Q3.
John Bell, Chairman of Tethys Petroleum said:
'We continue to focus on managing our cost base to further reduce our overheads while at the same time steadily increasing our production rates. We are delighted to report that our Kazakhstan production for May 2015 was up 19% on April, and a record rate since June 2013.
Discussions continue with AGR Energy regarding a potential larger financing as part of the strategic review and we look forward to updating shareholders in due course.'