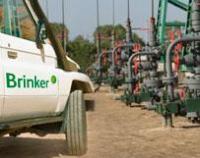 Brinker's innovative Platelet® Barrier and Micro-platelet Plasma® technologies are revolutionising well integrity practices across the world. Where previously wells that were shut in or operating with dispensation, would require months of planning and a work over rig to make them viable, Brinker has come up with a solution that can re-establish the integrity of shut in wells and bring those with leaks back up to full production at a fraction of the time and cost of a work-over rig.
Based on the human body's mechanism to heal cuts and wounds, Brinker's technologies remove the risk, delays and complex logistics of a traditional rig workover, helping operators to reduce the costs associated with maintaining asset integrity while meeting ever more demanding production schedules. As well as release workover rigs for other work operators benefit from open up wells which never make it to the top of the workover schedule.
Brinker recently restored seven wells in eight days for National Oil Company in the Middle East and in the process reactivated a well that had been shut in for five years, using Micro-Platelet Plasma®.
The results of Brinker's Technology are instant. Vice President of Sales and Operations, Kenny McAllister will lead a video demonstration of Platelets in action, take questions and discuss Brinker's potential as a real answer to managing the global well integrity challenge.