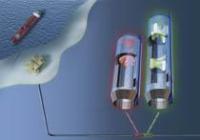 Emerson Process Management has launched its new downhole flow sensor system. The new system will, for the first time, generate multiphase flow measurements from downhole in the well, leading to increased operator understanding of reservoir flow and zonal contributions from wells and increased production control and optimization.
"Probably the single piece of data operators want to know most about, as part of their reservoir monitoring activities today, is the flow from individual wells. Yet, the growing complexity of well architecture, with an increase in multilateral and multi-zone wells, has led to operators having to settle on total production flow data rather than flow from specific well zones", said Terje Baustad of Emerson Process Management. "That's why the Roxar Downhole Flow Sensor System represents such a step-change in reservoir monitoring and flow assurance. We have taken multiphase measurement downhole to provide full multiphase measurements, including fluid fractions and flow rates, from either single bore or multilateral well configurations and to help operators increase field recovery."
Key features of the Roxar Downhole Flow Sensor System include:
Accurate and reliable flow rates, refined through 20 years of topside and subsea multiphase metering experience and 25 years of downhole monitoring experience. The technology is built on the Zector platform of Emerson's third generation multiphase meter with new field electronics, electrode arrangements and a new measurement principle. The flow sensor system includes a new water cut measurement tool based on dual velocity measurements and a density sensor, measuring the density of flow effluent using gamma rays. The system can operate at pressures and temperatures of up to 10,000 psi and 150 ºC respectively.
A compact and easy to use solution. The 3.5" tool and ¼" cable is compact and easy to install, fitting in both thin zones between packers and in 7" liner/casing. There is a single conductor for all tools including the downhole gauge and the system can be retrofitted to existing subsea monitoring systems without the need for modifications. Measurements are performed in the tubing through non-intrusive sensors.
The flow sensor system is also highly flexible and forms part of a broader downhole solution. The system is modular with users able to pick the tool combination which best suits their needs - water cut only, for example, and is fully compatible with the Roxar downhole product portfolio, which includes high pressure and high temperature gauges. The flow sensor system is also fully integrated with Emerson's production management system, Roxar Fieldwatch, providing production and reservoir engineers with the tools and data to make better informed reservoir management decisions.
"The algorithms and theories behind flow computation that we have built up over decades of experience are now being applied to the new downhole flow sensor system", concludes Baustad. "Now we can fully claim to generate data from parts of the reservoir that other technologies can't reach, opening a new window into subsea production operations, and increasing flow assurance and ultimate production."