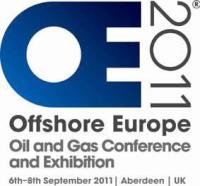 The complex nature of today's global oil and gas business will be one of the main subjects in the spotlight as some of the world's leading upstream industry figures gather at this year's SPE Offshore Europe exhibition and conference.
A series of outstanding plenary and panel sessions, topical lunches and business breakfasts will ensure another agenda-setting event, which will be held under the overall theme of 'Securing Safe, Smart, Sustainable Supply' in Europe's energy capital of Aberdeen. This will be in addition to the largest ever exhibition, including the 'Deep Water Zone', a brand new dedicated area focused on the industry's deepwater achievements, technologies and solutions.
The opening plenary session titled 'Managing Complexity' will be led by the Chairman of this year's event, Samir Brikho, who is also Chief Executive Officer of AMEC plc. Mr Brikho said: "The days of simplicity in our industry are gone. We are working in new parts of the world, in a more diverse energy portfolio, on larger-scale projects, in new frontiers, with different safety regimes, with exciting new technologies, in an increasingly complex supply chain, and in co-operation with different nations, all while not compromising on safety and sustainability. Complexity is perhaps the only word that can describe it all."
The panellists joining Mr Brikho include Matthias Bichsel, Projects and Technology Director at Shell; Charles Hendry, UK Minister of State, Department of Energy and Climate Change; and Michele della Vigna, Managing Director, Global Investment Research, Energy at Goldman Sachs. They will explore the challenges facing the E&P industry from both a business and regulatory perspective, in terms of the complexities they encounter, how their organisation manages it, and the hurdles that must be overcome to deliver safe, smart, sustainable supply for the future.
Key issues under spotlight in Topical Lunches & Business Breakfasts SPE Offshore Europe runs from 6-8th September and will also feature Topical Lunches including a presentation by respected outgoing Schlumberger CEO Andrew Gould, giving his 'View of the Industry'. A series of Business Breakfasts, meanwhile, will see one focus on the overall theme of 'Securing Safe, Smart, Sustainable Supply'; another highlighting 'Leadership Challenges in Tackling Hydrocarbon Releases'; and a third on 'Deepwater Offshore Projects' by Petrobras of Brazil.
A panel session will also be dedicated to 'Industry Oil Spill Prevention & Response Capabilities'. This session will focus on the substantial issues raised by the Macondo disaster and how they were tackled by the industry and its regulators, as well as ushering in a new era where the focus towards risk management has increased along multiple dimensions. This panel will feature participants including BP's Global Head of HSE, Steve Flynn; Shell's Vice President of Production, Joep Coppes; Brian Kinkead, Oil & Gas UK Director, OSPRAG; Archie Smith, CEO of Oil Spill Response; Jim House, Regional Vice President, Apache Corporation; Jan Panek of the European Commission; David Russell, EVP of Operations at Rowan Drilling Company; and Raphael Vermeir CBE, Vice President External Affairs at ConocoPhillips/OGP.
Other subjects to be discussed in further panel sessions include: 'Operating Models for the Future', which will examine and debate future operating models, looking perhaps up to 30 years ahead; and 'Ageing & Life Extension of Installations', which will provide an overview of the business case for extending the life of offshore oil and gas installations.
A panel session titled 'The Changing Role of NOCs – International Expansion & Engagement' will discuss the dramatically changing and future involvement of National Oil Companies internationally, with speakers including Peter Mellbye, Executive Vice President – Development & Production for Statoil of Norway; and Samarendra Roychaudary, Director (Operations) at India's ONGC Videsh.
The final session 'Achieving Emissions Reduction – The Upstream Challenge' will concentrate on the challenge of reducing atmospheric emissions and the upstream oil and gas industry's role.
On a more technical level, the conference programme will also concentrate on categories including Facilities & Infrastructure; New Well Technology; Reservoir Management; Health, Safety & Environment; Exploration; Carbon Reduction – the Upstream Contribution.
There will also be daily presentations in the Deep Water Zone, including sessions on Underwater Challenges, organised by the Society for Underwater Technology (SUT), and another focusing on Brazil, organised by Petrobras. Other sessions will feature Deep Water Exploration, organised by EAGE, and a 'Dragon's Den' event organised by the Society of Petroleum Engineers.
SPE Offshore Europe is held every two years. This year's edition is the largest ever, growing by approximately 10% compared to the 2009 event which was itself a record-breaker in terms of both attendance records and the size of the exhibition, which featured 1,421 companies.
The biennial conference and exhibition is organised by The Offshore Europe Partnership, a joint venture between Reed Exhibitions Ltd. and the Society of Petroleum Engineers (SPE).