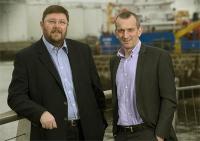 THE world's first high pressure (HP) retrievable bridge plug capable of withstanding a differential pressure of 15,000psi was today (Tuesday, 6 September) unveiled at Offshore Europe by high-technology well intervention specialist Interwell.
Interwell developed the ultra slim, 2.2" OD, HP bridge plug to provide a reliable barrier in extremely high pressure conditions.
The ISO 14310 qualified tool contains an innovative packer back-up design which both compresses and constrains the element, reducing the risk of extrusion in extreme conditions and enables its operation to 15,000psi.
"We have established a new standard with this tool as we are the only company in the industry to develop a plug which can withstand such high pressures and is fully retrievable after use," says Interwell's UK managing director, Andrew Louden.
"This tool is a significant development in terms of its global applicability in ultra-deepwater environments, and from our perspective is a further major design and engineering achievement in a portfolio which already includes the highest-expansion ultra-slim bridge plugs available."
The ultra-slim design of the patented element back-up segments of the HP plug reduces the risk of deployment and retrieval through narrow wellbore restrictions, a crucial operational benefit in high pressure high temperature (HPHT) wells.
Efficiency is further enhanced by each plug taking just one run to set and one to retrieve, providing a reliable and cost effective solution for well interventions.
Jim Laidlaw, business development director at Interwell Aberdeen, says: "Intervening in deepwater and HPHT wells is very demanding. Our key design aim was to develop the slimmest HP plug solutions in the market whilst also minimising operational complexity in these challenging well conditions.
"With a range of plug sizes for 3-1/2" to 7-5/8 casings, the ultra slim HPHT plug design makes it an ideal barrier solution for wellbores with any form of restriction, allowing it to be deployed reliably to the desired depth.
"Our plugs have been designed so they can be used as both shallow and deep barriers, making them ideally suited to workover applications. They can also be used to anchor injection valves and equalisation devices."