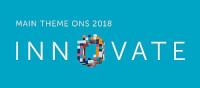 There is one thing the entire energy industry has in common – our approach to challenges. No matter what the problem is, we know it is possible to solve it – if we innovate.
ONS has announced the main theme for next year's event, ONS 2018. The main theme is INNOVATE.
"With the theme, we aim to set the direction for the discussions at our seven conference arenas, and to address relevant challenges and opportunities for the energy industry," says President and CEO of ONS, Leif Johan Sevland.
The theme usually gives inspiration to many exhibitors when they develop the concept for their exhibition space. The themes for ONS 2014 and ONS 2016 were Changes and Transition.
"We aim for the theme to be positive, forward-looking and relevant to all the exhibitors, visitors and conference delegates at ONS. With Innovate I believe we have accomplished that, and I look very much forward to hearing how it is received in the energy industry," Sevland says.