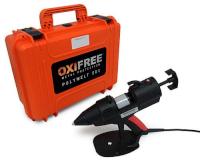 Oxifree Global will be showcasing its revolutionary new Polymelt Service Gun (SG1) for the first time to the biggest names in the oil and gas industry at Offshore Northern Seas (ONS) in Norway between 29th August and 1st September 2016.
The SG1 was carefully developed to allow asset owners a way of filling in small areas of Oxifree TM198 coating which have been removed for inspections, making maintenance in the field easier and more cost effective.
Corrosion and contamination in the harsh marine environment is a costly challenge for asset owners. Oxifree Global has developed Oxifree TM198, Oxitape and the new SG1 to tackle the global corrosion epidemic which ravages all sectors of the offshore industry.
"We are delighted to be showcasing the SG1 on our stand at ONS this year for the first time. After consultation and feedback with our clients and representatives, it was clear there was a need for a compact, lightweight solution for small coating touch ups," comments Ed Hall, Managing Director at Oxifree Global.
The SG1 allows end users to undertake inspections by removing small amounts of coating material to do visual inspections of the substrate, then simply reapplying material without the need to move around a large unit. Oxifree TM198 thermoplastic coating is a patent protected, organic, self-lubricating coating for the protection of metal components. It was developed by Oxifree Global to help reduce the cost of maintenance. TM198 lasts several years and has been proven to extend the lifecycle of components, reducing maintenance costs by at least 40%.
"One of the biggest challenges facing the oil and gas sector is how to increase asset lifetime and reduce the associated maintenance costs caused by corrosion and contamination," explains Ed. "Oxifree's unique TM198 coating and Oxitape offer unbeatable protection against corrosion. These, combined with the new SG1 – which can be operated by the end user and doesn't require a technician to be sent to site – will make inspections and maintenance in the field much easier and cost effective for asset owners."
The SG1 will be on display at Offshore Northern Seas from 29th August – 1st September on the Oxifree Global stand (Hall 6, booth number 6700. Visitors are invited to drop in to see the SG1 and see a demonstration of Oxitape and Oxifree's thermoplastic coating and to discuss the latest issues in corrosion technology with Oxifree's experts.