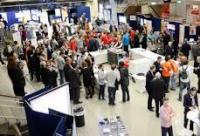 The traditional ONS Award Ceremony was arranged at the outdoor stage in front of an excited crowd of exhibitors and visitors at ONS 2014. The two awards for Best Stands were presented to Gassco and Centrica Energy Norway.
Chief of the award jury and Museum Director of the Norwegian Petroleum Museum, Finn E. Krogh pointed out that it had been an exciting and difficult challenge to select the two winners out of the 10 nominees.
– The quality of the stands has been excellent this year and with 1380 exhibitors it has not been easy to nominate the 10 best exhibitors. I can assure you that the committee has had some busy and interesting days touring the exhibition, said Krogh.
Gassco winner of the Best Stand Award, for stands larger than 50 square meters
Gassco was presented the award due to their strong visual profile based on organic forms and smart architecture using natural materials. Their stand was described as open and inviting, communicating the company's core activities.