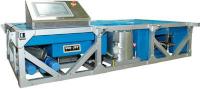 Chukar Waterjet, Inc. will unveil its new SUB-JET 3000™ ROV-attachable waterjet system at the OTC Offshore Technology Conference, May 2-5 in Houston.
Chukar's SUB-JET 3000 brings the power and versatility of ultra-high pressure (UHP) waterjet cutting and blasting to the deepwater subsea environment. Operable to 3000 meters, SUB-JET 3000 cuts steel as thick as 250 mm and quickly blasts away coatings, corrosion and marine growth at pressures up to 3900 bar.
The SUB-JET 3000 is deployed as an underslung equipment skid on a work class ROV and is powered from the ROV's auxiliary power.