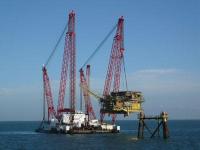 The Gulf of Mexico (GoM) is one of the most important regions for energy resources and infrastructure, producing 370million barrels of oil and 1,103billion cubic feet of natural gas in 2013, worth an estimated $40billion.
As the industry matures, record levels of infrastructure are facing decommissioning and in a bid to identify potential opportunities, Decom North Sea (DNS), the offshore oil and gas decommissioning forum, will host a Networking breakfast during OTC week.
The event will take place on May 7, at the Hilton Houston Post Oak and will include a global outlook of decommissioning and abandonment from market analysts Infield Systems Ltd and an overview from Marathon Oil, which currently has decommissioning activity in both the North Sea and GoM, on the similarities and differences in the two markets and where they feel improvements can be made.
Jim Christie, Global Decommissioning Projects Manager at Marathon Oil Corporation commented: "We may be an ocean apart, but if two of the largest decommissioning markets can collectively focus on the three "C's" we have an opportunity to be successful in meeting decommissioning goals. The three "seas" are of course Compliance, Collaboration and Contracting."