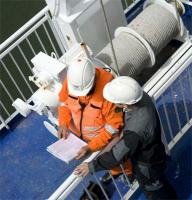 VIKING is ready with all the answers to a new hot topic for offshore infrastructure owners and operators at its stand at OTC 2014. The topic is single-source safety equipment servicing – and judging by industry reactions, VIKING seems to have uncovered – and solved – a significant hassle for its offshore customers.
Although its safety management offering, called the VIKING Offshore Safety Agreement, was released only last year, marine and fire safety equipment leader VIKING Life-Saving Equipment has already had a number of significant wins. Among these is a newly inked, multi-year servicing contract signed with Norwegian-based oil and gas giant Statoil for the maintenance of marine safety equipment on board 36 platforms in the North Sea.
Statoil's portfolio of marine safety equipment for its oil and gas activities is typical of similar-sized industry players. The company's rigs have been built at various times and were equipped with the best of what was available at the time of construction. Over the years, many of the products have been updated, but rarely or never as a complete installation upgrade. What's more, Statoil's platforms are designed for a variety of purposes and environments and can require, therefore, slightly different types and specifications of equipment.