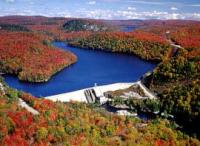 Brookfield Renewable Energy Partners L.P. has completed its previously announced issue of Cumulative Minimum Rate Reset Class A Preferred Limited Partnership Units, Series 7 (the "Series 7 Preferred Units"). The offering was underwritten by a syndicate led by TD Securities Inc., CIBC, RBC Capital Markets and Scotiabank.
Brookfield Renewable issued 7,000,000 Series 7 Preferred Units at a price of $25.00 per unit, for total gross proceeds of $175,000,000.
The Series 7 Preferred Units will commence trading on the Toronto Stock Exchange this morning under the ticker symbol BEP.PR.G.