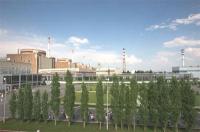 The State Corporation Rosatom said that based on its latest results, the company's portfolio of foreign orders for a 10-year period to end 2015 exceeded US$ 110 billion, compared with US$101.4 billion at the end of 2014.
The company said its goal within the next two years is to increase the 10-year foreign order portfolio up to US$160 billion.
The company added that Rosatom registered good results and it would have been better if the contract for the construction of the nuclear power plant in Egypt had been signed. If it had been, the portfolio would have been about US$140 billion.
It said that Rosatom's export revenue increased to US$6.4 billion based on the 2015 results, a 28% increase from US$5 billion in 2014.