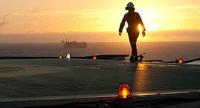 Statoil delivered adjusted earnings of NOK 15.2 billion and adjusted earnings after tax of NOK 1.6 billion in the fourth quarter 2015. For the full year 2015, adjusted earnings were NOK 77.0 billion and adjusted earnings after tax were NOK 19.5 billion.
Statoil's net income in accordance with IFRS for the fourth quarter 2015 was negative NOK 9.2 billion, and for the full year 2015 it ended at negative NOK 37.3 billion, mainly as a result of lower short term price assumptions leading to impairment charges and provisions.
Today, Statoil presents its update to the capital markets, announcing a step-up in its improvement programme by 50% to USD 2.5 billion per year in 2016.