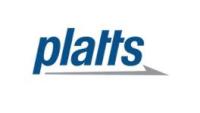 Prices of liquefied natural gas (LNG) for June delivery to Asia fell 8.0% to an average $14.316 per million British thermal units (/MMBtu), according to the just-released Platts Japan/Korea Marker (JKM) for month-ahead delivery. The decline followed unseasonably warm temperatures across much of northeast Asia which weighed on demand. The data reflects the daily Platts JKM for June assessed between April 16 and May 15, expressed as a monthly average.
The Platts JKM for June was 1.7% less than the June 2013 average of $14.565/MMBtu, which followed the year's low of $14.15/MMBtu on May 15, 2013.
The JKM for June 2014 delivery began the trading month at $14.875/MMBtu before closing at $13.625/MMBtu, the lowest level since November 2012.
"Northeast Asian buyers, particularly in Japan and South Korea, are still well supplied due to weaker than anticipated demand in early year," said Stephanie Wilson, managing editor of Asia LNG at Platts, a leading global energy, petrochemicals and metals information provider and a premier source of benchmark price references. "In addition, more LNG supplies are being made available for incremental demand from liquefaction projects in the Asia-Pacific basin, as a few buyers have chosen to take less volume from their term contracts."