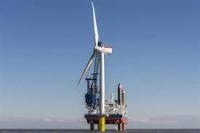 In connection with the capital injection in DONG Energy in February 2014, it was agreed between the main shareholders and the company to develop an Initial Public Offering (IPO) roadmap addressing DONG Energy's continued strategic development ahead of a potential IPO. This roadmap has now been completed with the following outcome and key priorities:
IPO timing: DONG Energy intends to pursue an IPO within 18 months, subject to market conditions. DONG Energy will now initiate IPO preparations, to allow the IPO to take place as soon as possible.
Strategic approach for DONG Energy:
• Ahead of the IPO, DONG Energy will continue to strengthen its position as a world-class clean energy company with a diversified renewables portfolio based on leading competences in offshore wind and biomass, as well as distribution and sales anchored in DONG Energy's Danish home market.