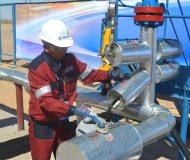 JSC KazMunaiGas Exploration Production announces the approval by the Board of Directors of the Company's 2016 budget and 2016-2020 business plan which assume the average annual Brent price of US$40.1 per barrel in 2016-2017, US$50.1 per barrel in 2018-2020 and an average annual exchange rate of 300 Tenge per US dollar.
Production
Planned production in 2016 is expected to be 5,612 thousand tonnes (113 kbopd) from JCS OzenMunaiGas (OMG) and 2,822 thousand tonnes (57 kbpod) from JSC EmbaMunaiGas (EMG). Thus, the total planned production volume in 2016 from OMG and EMG is expected to be 8,434 thousand tonnes (170 kbopd) or 1% more than planned production in 2015 due to improving the efficiency of geological and technical measures.
The Company's share in the planned production of Kazgermunai (KGM), CCEL and PetroKazakhstan Inc. (PKI) in 2016 is expected to be 3,777 thousand tonnes (77 kbopd), which is 211 thousand tonnes or 5% less than expected production in 2015 due to a natural decline of production at PKI.