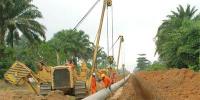 Mart Resources, Inc. and its co-venturers, Midwestern Oil and Gas Company Limited and SunTrust Oil Company Limited (SunTrust) are pleased to provide the following update regarding the Umugini pipeline in Nigeria.
The 51-kilometer Umugini pipeline tie-in at the Eriemu flow station and other start-up activities have been completed. The line fill process required to commence shipment of oil to the Trans Forcados crude oil export pipeline and onward to the Forcados oil export terminal and the inspection of the Umugini pipeline facilities by the Operator of the Umugini pipeline was also successfully completed by the end of September 2014.
Accordingly, the Umugini pipeline is ready for injection of crude into the Trans Forcados crude pipeline and Shell Petroleum Development Co. of Nigeria's (SPDC) pipeline system connected to the Forcados oil export terminal. The commencement of oil flow will occur following the receipt of the formal authorization of oil injection by the operator of the Trans Forcados export pipeline, which authorization is expected shortly.