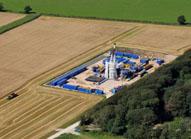 Cuadrilla plans to appeal Lancashire County Council's (LCC) Development Control Committee's decisions last month to refuse planning consent for two applications for temporary shale gas exploration sites. The applications sought planning permission to drill, hydraulically fracture and test the flow of gas from up to four exploration wells on each of two sites, one at Preston New Road and the other at Roseacre Wood.
We will also be appealing the refusal of a separate planning application to install seismic and ground water monitoring stations around the proposed Preston New Road exploration site. A similar planning application was granted for monitoring works around the proposed Roseacre Wood exploration site, however we will also appeal against certain conditions imposed on this planning consent.
LCC's planning officer had recommended approval of the Preston New Road exploration site planning application and was very clear that the proposals were acceptable on all environmental and planning grounds. This includes the officer's conclusions that the proposals were acceptable in relation to noise and visual impacts, which were the reasons given for the refusal of the application by the Committee. The monitoring applications for both Preston New Road and Roseacre Wood were also recommended for approval by the planning officer.