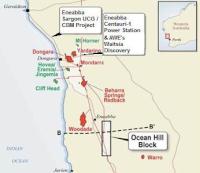 Eneabba Gas Limited advises that significant progress has been made towards completing the acquisition of the Ocean Hill Gas Project and locating a farm-in partner for Ocean Hill, which is located in the North Perth Basin, Western Australia.
Native Title
Agreement has now been reached with both the Yued and Amangu traditional owner groups. The Yued agreement is signed and completed. The Amangu agreement is now waiting on final execution by the Amangu group. Eneabba would like to thank both the Yued and Amangu for their professionalism and expedited consideration of the agreements.
Acquisition Timetable
Eneabba expects that the final Native Title Agreement will be completed and executed within the next three to four weeks. Subsequent to this, and subject to agreement with the project vendor Green Rock Energy Limited ('Green Rock'), granting of the permit to Green Rock is expected to be in approximately four weeks.