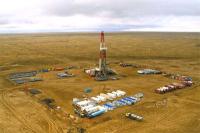 Tethys Petroleum Limited provides an update on the Strategic Review process and on-going discussions with SinoHan Oil and Gas Investment Number 6 B.V.
The Strategic Review process, being undertaken with the assistance of Macquarie Capital, is progressing well, with a number of new parties expressing an interest in near term financing options, the Company and its assets. A further update will be provided in due course. At this stage, there can be no certainty that further funding will be secured or that any strategic transaction or alternative will be undertaken.
As previously announced the Company is currently in discussions with SinoHan on matters relating to the termination of the sale and purchase agreement, including the US$3.88 million deposit advanced by SinoHan in the form of a minimal interest-bearing loan and the amount of up to US$0.70 million that would also be payable to SinoHan in the event of the CPs not being met or waived by the extended longstop date in certain circumstances. Demand for payment on both sums has been received from SinoHan. Tethys continues to conduct discussions with SinoHan and at this time remains confident that an amicable resolution can be reached between the parties on these matters.