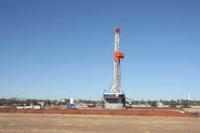 The Directors of Triple Energy Limited provide the following update on activities.
The first of two wells (Niaoshan-1), was spudded in the Bird Mountain area 28 June 2015. It is located around 2 kilometers from the previous Xian Xian-1 well drilled by the Joint Venture in 2013. The well is targeting several major coal seams for intersection which will be cored for desorption analysis and tested.
The well is currently drilling ahead having set surface casing and tested gas measuring equipment over the last week. As of 8am on 6 July 2015 the well has reached a depth of 67 metres (measured depth).
The is planned to be drilled to a depth of approximately 1,300 metres, which is expected to take around 6 weeks, inclusive of coring and testing.
The second well of 2015 will follow with the same rig once operations at Niaoshan-1 are complete. Further updates will be made on a weekly basis and as material developments occur.