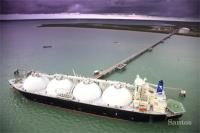 Santos says that the GLNG project participants have executed an agreement with AGL Energy Limited (AGL) for the purchase of 254 petajoules of gas for supply to the GLNG project in Queensland, Australia.
The gas will be delivered at Wallumbilla over a period of 11 years commencing in January 2017, with pricing based on an oil-linked formula. The gas will be sourced from coal seam gas fields in Queensland.
Vice President Downstream GLNG Rod Duke said the agreement with AGL adds to GLNG's diverse gas supply portfolio, comprising supply from GLNG's own coal seam gas fields, Santos portfolio gas, underground storage and third party supply.