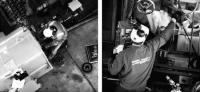 Norwegian west-coast-based Karsten Moholt AS has signed an agreement with energy giant Shell.
Karsten Moholt AS, located on the west coast of Norway, is a complete service centre for electrical equipment. The company serves major clients in the energy, offshore, shipping and subsea industries. Services include complete lifecycle of a machine, to overhaul and repair, testing, equipment sales as well as ISO-certified courses.
 "Shell is an exciting company. For many years, we've had good collaboration concerning repairs and maintenance for Shell. Now, we have received an offer that's formalised the co-operation agreement and we look forward to continuing," says Steffen Bie Paulsen, sales director at Karsten Moholt AS.
The co-operation agreement is for five plus two years' duration. The contract scope is for Karsten Moholt to service and repair motors, generators and transformers.
Karsten Moholt AS strives to be a world leader in electromechanical industry. The focus has been on developing new solutions that have proven to be profitable for the company, such as the contract it has entered into with energy giant Shell.
"We are pleased by the confidence Shell exhibits in this Agreement. The favourable duration of the contract makes the deal even more important for us," says Bie-Paulsen.