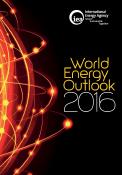 The long-established links between economic activity, energy use and energy-related emissions are weakening. Renewables-based electricity generating capacity additions in 2015 exceeded those of all other fuels, taken together. Over 1 million electric passenger vehicles were sold globally in 2015 – a small proportion, but a landmark. Global energy intensity fell in 2015 at twice the average rate of the previous decade. COP 21 commitments set an ambitious course for the future. The energy transition is gathering momentum.
But will the various country commitments made at COP 21 in Paris be fully implemented? What does the slump in prices for and investment in fossil fuels mean for future energy supply? Are there technical or economic limits to the growth in renewables power generation? Will modern energy ever be available to the entire global population?
The World Energy Outlook 2016 (WEO-2016), to be released on 16 November, enables you to provide your own, informed answers to these questions, based on the customary mix of rigorous quantitative modelling, analysis and insight.

Amongst the issues addressed are the following:
The impact of COP 21: WEO-2016 tracks progress on the various pledges made at COP 21, analyses their impact on energy markets and examines the policy options to bridge the gap between ambition and commitment. This includes a first assessment of pathways to the goal of limiting the average global temperature rise to "well below 2°C," and, even, "making efforts towards 1.5°C".
Renewables: as part of an in-depth focus on the outlook for renewables, WEO-2016 offers a quantitative assessment of improvements in the competitiveness of renewables in power, heat and transport applications, as well as analysing the options for, and implications of, their integration within the broader energy system.
The road ahead for fossil fuels: oil, gas and coal remain the bedrock of global energy supply, but all face an uncertain period of adjustment, both to today's market conditions and, over the longer term, to the prospective landscape, post COP 21. WEO-2016 assesses tomorrow's market balances and the risks that lie ahead, from under-investment in essential supply to stranded assets.
Energy and water: Energy production depends on water supply and freshwater supply depends on energy. WEO-2016 analyses the inter-related requirements, highlighting key stress points and vulnerabilities.
Pre-order the World Energy Outlook 2016 now from the IEA Online Bookshop: www.iea.org/bookshop