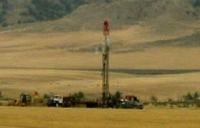 1st NRG Corp. announce the start of development on eight locations in Wyoming's Powder River Basin where we hold 100% of the working interest before payout. These shallow locations are approximately 1,900 feet in depth, and characterized by what we believe to be low geologic risk and a repeatable development opportunity.
The operations offset existing wells, all of which have developed coal seams in the Schwartz, Anderson, Canyon, Cook and Wall formations. Successful implementation of this plan would significantly increase FNRC production and revenues.
Mr. Kevin Norris CEO of the Company, stated during an interview with The Stock Radio, "The impact on 1st NRG is tremendous." We currently hold an approximate 3% working interest in existing wells and will initially own 100% of the offset development wells. The first well began drilling December 28th, 2013 and will continue as weather and equipment availability allow.