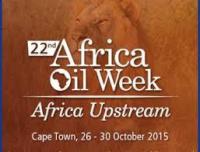 Global Pacific & Partners hosts the 22nd Africa Oil Week/Africa Upstream Conference 2015, in JV with ITE Group plc, 26th– 30th October, Cape Town, South Africa.
This is a meeting with global reputation, and one of the few top world-class Conferences held annually at a continental-level in the international industry Calendar, with outstanding 100+ Speaker line-up from Governments, leading companies, and key players inside Africa's oil/gas-LNG industry value chain.
Some 40+ Governments with African National Oil Companies, Licensing Agencies, and over 1,000 key senior executives of oil and gas companies and state oil officials involved in Africa, are typically present annually, alongside 160 Exhibitors. Attendees benefit from extensive networking occasions.
Dr Tony Hayward, Chairman, Genel Energy, and Chairman, Glencore (Xstrata), is the 22nd Africa Upstream 2015, Keynote Guest Speaker.