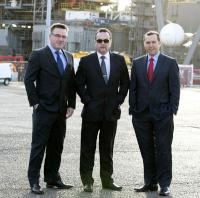 International engineering company PD&MS Energy and specialist fabrication and engineering firm Harlen have committed £2.5million of investment towards a new state of the art rig repair and subsea fabrication facility in one of Scotland's premier ports.
The 38,750sq ft facility on Princess Alexandra Wharf at Port of Dundee is expected to house up to 50 full time personnel - rising to upwards of 260 including contractors during specific projects - and manage offshore asset service works in excess of £8million in its first financial year.
The investment allows PD&MS, world renowned for its project management and offshore engineering knowledge to provide a full concept to completion service with the support of leading fabrication & engineering company Harlen, who will deliver fabrication services from the new facility.