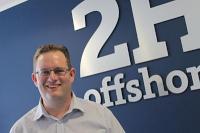 2H Offshore, an Acteon company, has announced the appointment of Yann Helle as managing director. Helle replaces Tim Eyles, who is moving to the role of vice president with parent company Acteon.
Helle, who previously held the position of technical manager, will have responsibility for the leadership and development of 2H globally, focusing on evolving and expanding new business opportunities particularly life extension, abandonment and marginal field developments.
Global director, Dr Hugh Howells says, "Yann's growth into the management side of our business along with his extensive technical and project management experience made him the ideal choice for this role. His focus on the long term vision of 2H will ensure we are well positioned to deal with the current market challenges and we look forward to seeing the results we know he will produce."
Helle joined 2H in 2002 after graduating from Kingston University, London, with a Masters degree in Mechanical Engineering. He has gained significant technical and commercial experience in riser and conductor systems, minimum facility platforms and component package supply. In 2008 Helle achieved an MBA from Imperial College. He is also a chartered engineer and member of the Institute of Mechanical Engineers.
Helle recently returned to 2H's London office following three years in Houston as project manager of the TLP top tensioned riser system delivery management project for Total's Moho Nord field development. Helle will continue his involvement in the project through to installation in the third quarter of 2016.
Helle says, "I am thrilled to be taking on this role, having developed through the company over the last 14 years. I look forward to working even closer with the leadership team at 2H Offshore to ensure the company continues to succeed despite current market conditions."