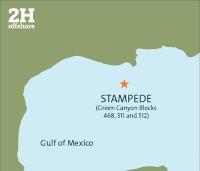 2H Offshore, an Acteon company, has been awarded two separate contracts, one by Hess Corp. (Hess) and a second contract by Enbridge Energy Co. (Enbridge), to verify the design, fabrication and installation phases of the Steel Catenary Risers (SCRs) for the Stampede field development in the Gulf of Mexico.
The Stampede field is operated by Hess. Enbridge plans to build, own and operate the oil export pipeline from the Stampede tension leg platform (TLP). The subsea development is situated in Green Canyon blocks 468, 511 and 512 in the central U.S. Gulf of Mexico, in water depths of approximately 3500 ft.
The primary objective of 2H's verification work is to verify the acceptability of the Stampede SCR design, fabrication methods and installation activities for both Hess and Enbridge, and ensure that there is consistent adherence to the relevant codes, standards and specifications. The project award follows 2H's successful completion of the design, fabrication and installation verification work for the production SCRs in the Hess-operated Tubular Bells field development last year.