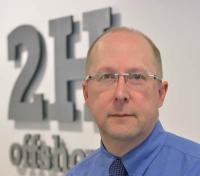 2H Offshore, an Acteon company, is adding strength to its flexible marine riser engineering capabilities by growing its teams in Aberdeen and Kuala Lumpur.
Highly experienced flexible riser engineer, Gilles Gardner, has been hired as a technical manager to support 2H's growing flexible riser engineering service offering from the Aberdeen office. Gardner will assist the local management team in the development of 2H's flexible riser analysis and engineering capability in the region.
Gardner holds a bachelor's degree in mechanical engineering from Memorial University, Newfoundland, Canada, and has been active in the offshore industry since 2003. He joins 2H from Flexlife, where he was engineering, delivery and integrity director. Gardner previously held positions as a flexible pipe design engineer with Technip, and a flexible package delivery manager and riser team leader at Wood Group Kenny.