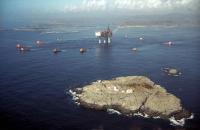 Gullfaks was Statoil's first field where the company was both developer and operator. Since production started on 22 December 1986, 2.6 billion barrels of oil have passed the loading buoys.
"Gullfaks is a prime example of the best that this industry has achieved in Norway," says Gunnar Nakken, senior vice president for the operations west cluster.
He points out that Gullfaks also played a key role in Statoil's development as an operating company. The company learned a huge amount from the development of Statfjord and from the international companies that were involved on the Norwegian continental shelf in the pioneering days. The establishment of the operations organisation in Bergen was a strategic decision, in order to build a petroleum cluster here.
"Wise decisions, outstanding subsurface work, the use of new technology and good team work in the Norwegian petroleum cluster have more than tripled the expected field life and ensured enormous value creation from Gullfaks. After 30 years, we still believe in Gullfaks, which has seen major investments and undergone extensive upgrades in recent years," continues Nakken, who is also Statoil's site manager in Bergen.
The Gullfaks organisation is very proud of what it has achieved in the past 30 years. They are a very tight-knit team.
"This solidarity was palpable in the wake of the Turøy accident in the spring. We have faced many tough challenges in Gullfaks' history, but none as difficult as this tragic accident," concludes Nakken.