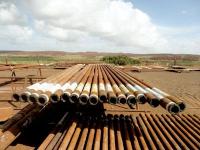 SGS is the first inspection company in Thailand to offer 3D laser scanning for tank calibration, with applications in the oil & gas and industrial manufacturing industries.
In Thailand, SGS conducted its first underground storage tank calibration survey using a FARO Laser Scanner Focus3D Multi Sensor X 330. More accurate, faster and more cost efficient than traditional calibration methods, the scanner uses a laser beam to measure and collect diagnostic data.
The data collated is then processed to deliver a full report. The conventional way to calibrate an underground storage tank is to fill it with water, which takes time and is costly.
3D laser scanning is highly accurate and the equipment includes built in digital cameras, a compass, altimeters and GPS to collect the relevant data in digital format. Once collated, all data is processed, using PolyWorks Software, and the tank's volume determined.