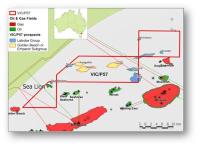 3D Oil Limited says that the Sea Lion-1 exploration well commenced drilling operations today at 12:45 pm Melbourne time. The well is being drilled by the West Telesto jack up rig which arrived on site 22 October 2015.
Sea Lion is located in offshore Gippsland Basin permit VIC/P57 where 3D Oil has a 24.9% interest in Vic/P57 while the company's share of Sea Lion-1 well costs is being carried up to the extent of US$7.5 million as part of an agreement with joint venture operator Carnarvon Hibiscus Pty Ltd the wholly owned subsidiary of Hibiscus Petroleum.
The planned total depth of the Sea Lion-1 well is 1800m and operations are scheduled to take a total of approximately 3 - 4 weeks.