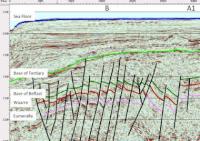 3D Oil Limited is pleased to announce that the National Offshore Petroleum Titles Administrator (NOPTA) has offered the VIC/P57 Joint Venture (JV) a Production Licence over the West Seahorse (WSH) oil field in the offshore Gippsland Basin. NOPTA has also approved the Field Development Plan (FDP) for WSH.
The Production Licence offer adds significant certainty to the WSH project. The approval of the FDP is also a significant milestone that indicates acceptance of the development concept and associated geosciences and engineering planning.
WSH is being developed for production in early 2015 by the JV comprised of TDO 49.9% and Carnarvon Hibiscus Pty Ltd (Hibiscus), a wholly owned subsidiary of Hibiscus Petroleum Berhad (KLSE: HIBISCUS), as Operator with 50.1%. Under NOPTA's rules, the JV now has 90-days to accept the offer and be awarded the WSH Production Licence.