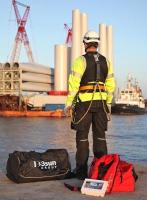 3sun Group, a specialist provider of products and services to the global energy industry, has opened a new base in Hull which aims to provide up to 50 jobs locally. The expansion strengthens the Group's strategy to become a leading supplier of installation, inspection and maintenance services for the offshore wind industry in the UK and Europe.
3sun Group will support local energy firms such as Siemens who have recently invested in the region as part of their commitments following a number of up and coming offshore wind contracts off the UK coast.
Commenting on the evolution of 3sun Group, CEO Graham Hacon, says, "Our premises in Hull allows us to continue to advance our strategic growth plans in the UK. We're looking forward to an exciting new chapter, strengthening our position as experts in the offshore wind industry. By providing a local base, we are ensuring that we continue to exceed our customers' expectations and meet the demand for services in the region."
Recruitment will begin this July, with the aim to provide positions for 50 local 3sun Group employees. The Group will provide specialist training to the new employees at their Hull base through in-house training provider 3sun Academy.
Graham adds, "We are committed to employing and developing a local workforce and our core electrical/mechanical technician roles will require the expertise of those who live in close proximity to Hull."