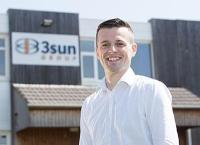 Renewables specialist 3sun Group has expanded its recruitment team as demand grows to supply technicians and engineers for wind farm projects across the UK and Europe.
More than 100 new technicians taken on since February are now on sites, swelling the company's employee numbers to more than 400, with the demand for new recruits rising.
To source the extra personnel needed for wind turbine generator pre-assembly installation, servicing and inspection projects, the Great Yarmouth-based company has taken on recruitment coordinator Luke Pallett to join its busy team.
"It is incredibly busy now and the company's huge recruitment drive from the start of the year is continuing. It's a very positive place to be at the moment," Pallett says.
Employing people local to the wind turbine hubs is a priority for the company, with full technician training provided at the 3sun Academy. Oil and gas workers made redundant in the downturn and ex-military are among key potential targets.
"They can adapt their offshore mechanical and electrical skills with courses at 3sun Academy and be on site within a few weeks. We seek candidates close to sites to ensure local jobs for local people. People who have mechanical and electrical skills but no turbine or offshore experience can be put through our training at the 3sun Academy," continues Pallett.
3sun Group currently has a 40-strong team working with Siemens at its pre-assembly base at Great Yarmouth for the Galloper Offshore Wind Farm project. Local technicians who have diversified their skills from the oil & gas industry have joined the team.
"Demands for more technicians on a variety of projects are coming in all the time. We are looking for technicians to work on onshore wind turbine pre-assembly sites, installation, servicing and inspection projects," he says.
Pallett has diversified his own career, moving from a recruitment role in the oil and gas industry. Previously, he ran production sites for a company producing specialised subsea pipeline protection systems.
"It felt like a natural progression to move into renewables now and I've already experienced how much work there is and how busy it will continue to be as wind farms are developed across the UK and abroad," Pallett says.
3sun Group's unique offer is its packages of multiple work scopes. It is currently supplying three or four scopes of work to the Rampion Offshore Wind Farm, off the south coast, including offshore installation, bolt tensioning on the transition pieces and inspection services.
Business Development Director Willie Dawson, founder of 3sun Group's biggest division, Dawson Energy, says the expertise of 3sun Group's other divisions added "arms and legs" to the core body of installation and O&M services, putting the company ahead of increasing competition: "We can offer a much broader package, handling all aspects of work. 3sun Inspection services are a leading industry player and we also have the facility to train our customers' staff as well as our own employees through 3sun Academy."