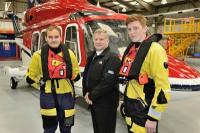 3sun Group has established a new training program as part of the Group's continued commitment to developing future industry talent.
The program, which has been created in collaboration with the international engineering and operation contractor, Offshore Design Engineering Limited (ODE), aims to enhance the skillset of apprentices aspiring to enter the energy industry.
Throughout April and May, six third year apprentices will get the opportunity to spend time offshore as part of their NVQ course, Electrical, Mechanical Instrumentation. The new initiative is set to develop the technical skills and competency levels of the apprentices by offering them the opportunity to work on an operational platform alongside an offshore crew.