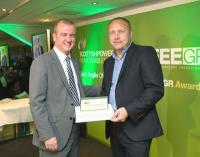 3sun Group has won the Best Skills Initiative Award and the Scottish Power Renewables Offshore Wind Award at this year's EEEGR Awards.
The awards celebrate the best of the East of England's energy industry, honouring the achievements and developments of companies over the past 12 months. Winners were announced at an awards ceremony on 16 July at Norwich City Football Club.
Commenting on the Group's success, Graham Hacon, CEO, said: "We are extremely proud to have won two categories at this year's EEEGR Awards and especially delighted to have been recognised for our commitment to young people within the industry. A double award win is a fantastic achievement and testament to the hard work and dedication of the entire team. "
The Best Skills Initiative Award recognises a scheme that demonstrates a skills initiative to aid and enhance the development of individuals within an organisation in the energy sector, and was awarded to 3sun Group in recognition of its Pre-Apprenticeship programme.