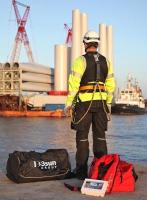 Specialist provider of products and services to the global energy industry 3sun Group, has successfully secured a contract extension with Siemens to provide offshore wind turbine installation services in the UK until 2016.
3sun Group has been working with Siemens since 2009, on work totalling around £15 million in the UK. This two year contract extension further underpins the relationship, and involves the company providing technicians for the offshore installation of Siemens turbines.
Andrew Elmes, Renewables Director of 3sun Group said: "This contract highlights our strong ties with Siemens. Renewal of this contract is in recognition of our high value, complete service offering to the offshore wind industry, from inspection and installation, to service and maintenance, and where the high standards of training and the professionalism of our personnel make us the preferred supplier to the market leader.