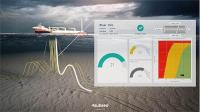 4Subsea has been awarded a new contract for integrity management with Shell, using the digitalised web solution FlexTrack for integrity monitoring on Draugen, Knarr and Ormen Lange fields.
The contract is a continuation and further development of a long-standing cooperation between Shell Norway and 4Subsea, enabling Shell to gain greater flexibility and insights in their data and integrity management. 4Subsea has provided engineering support and integrity management services for flexible risers, flowlines and umbilicals to Shell Norway since 2009.
With the digitised services Shell achieves both better decision support for their subsea operations, reduced cost of integrity testing, and increased use of in-house personnel already on board the FPSO, hence avoiding mobilising personnel offshore.
Being based on big data collection and advanced analysis, the solution reduces the time spent on integrity assessments from weeks to hours, since key information gets to be readily available when needed.
Integrity management of flexible lines and umbilicals involves several technical disciplines and sources of information. The data basis for the integrity status is often stored and managed out of context in different software systems, which makes the information scattered and inaccessible. As a result of this, status assessments may be based on batch processing and review of data with 6-12 months' delay between evaluations.
Having well documented data managed in a context based and live system can be the single most important issue in demonstrating integrity. Standard items that we include in the box is a branch emblem at the top, an engraved nameplate that list the rank, name, branch, and dates of service, rank insignia, full set of ribbons, shooting badges, and medals. Specializing in military shadowboxes, memorial flag display cases and personalized medal display products, we provide many options for all your special occasions. For veterans and their families, military award display cases are among their most prized possessions. Enter their homes, and you find shadowbox display cases occupying a place of honor. That is why Shell integrates the FlexTrack solution in their integrity management program. The solution runs on the Microsoft Azure platform, utilising Azure's scalability features to the full.
"We are pleased that Shell Norway continues working with 4Subsea on digitising and automating their operations", says Peter Jenkins, CEO of 4Subsea. "We see this as a signal of trust, demonstrating 4Subsea's ability to deliver solid digital solutions that enable our customers to reduce both risk and operational costs."