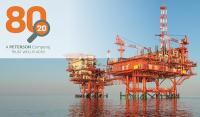 Procurement specialist 80:20, a Peterson company, has had a successful start to 2016 securing a number of new contracts in the UK worth a combined value of GBP 25 million.
The procurement services projects have been awarded by a number of key oil and gas operators and include two successful re-tenders, each for a further 3 years. The company will deliver strategic sourcing and supply chain management, working closely with the operators to provide an innovative service using its e-solutions software which has a record of delivering added value.
Peterson utilises in-house developed systems designed to enable the sharing of data that is often absent in our market place. This brings the benefits of faster response times, more accurate reporting, real time updates, improved cost visibility and centralised capturing of information.
Managing director Paul Dorward says, "We have had an extremely positive start to 2016, particularly in this difficult market. Our use of innovative commercial and technology solutions has been the driving force behind these wins. We have a highly skilled team of procurement experts and are committed to continuing the development of our people. We have a strong affiliation with the Chartered Institute of Procurement and Supply (CIPS) which is recognised worldwide as the standard for top quality procurement professionals and we believe this is key to clients entrusting 80:20 to deliver their procurement services."
The contract wins come as the company continues to grow its international footprint with the opening of a new base in Houston, Texas. Adrian Quick has been appointed as business manager, responsible for the company's operations in the US. He joins a further two employees in the Houston office with additional hiring plans already in motion in response to growing business.
The company currently employs 36 people worldwide with bases in the UK, Netherlands, Norway, Trinidad and Malta.