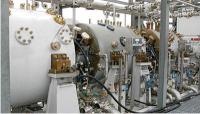 Global engineering and consultancy firm ABB Consulting has launched its 100-day UKCS cost reduction challenge, in a move that is set to galvanise the industry's economic recovery.
ABB - which has a worldwide reputation as a leader in process safety and integrity management – has urged North Sea operators to adopt the scheme which it says will dramatically reduce costs, improve safety and production efficiency.
And by getting behind its new proposal, ABB says that firms will start seeing the cost reduction benefits inside 100 days.
Phil Lawson, Consultancy Manager at ABB Aberdeen, explains: "We all know that the UK Continental Shelf (UKCS) is going through a turbulent time at the moment. The need for operators to reduce costs so they can remain competitive is paramount to maximising economy recovery.
"Our 100-day challenge is designed specifically for operators who are seeking opportunities to reduce costs, to act on benefits and implement them within the 100 days.
"Our team of experienced specialists will work with companies side by side to make pragmatic technical judgements and offer first-class solutions that are cost-effective."