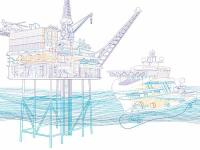 ABB Turbocharging, part of the ABB power and automation technology group, has made major investments at key service locations through 2015 resulting in tangible enhancements to its global maintenance and repair network for 2016 and beyond.
The company opened completely new service locations in Amman (Jordan), and Montevideo (Uruguay). Service Stations were also upgraded in Australia; and facilities enhanced for customers in China, Japan, South Korea, Turkey, and the USA. These steps reflect ABB Turbocharging's continuous strategy to fine-tune service capability in line with customers' needs.
"Maximising availability and uptime for customers' applications is a core ABB Turbocharging service commitment. Being as close as possible to the customer enables this, saving them time and costs," says Philipp Exner, Head of Network Coaching, ABB Turbocharging. "Our global network includes over 100 service stations with no third parties, allowing us to train all our engineers to the same ABB standards wherever they are. We continually review each service station to ensure that it is optimised for location, parts distribution and overall responsiveness."
The establishment of service operations in Amman supports the maintenance of a total of 108 TPL76-C34 turbochargers on the engines of the world's largest internal combustion engine power plant and its smaller neighbouring power plant.
In Uruguay, ABB Turbocharging has opened a service point in Montevideo, in response to requests from existing power customers for local support. To meet ABB's global network service standards, the solution involves the dispatch of Service Engineers from the company's regional hub in Buenos Aires or from Brazil to the Montevideo service point, where they take responsibility for local maintenance and repair. The first project involved a TPL 85 renewal, the challenges of which confirmed the direct benefits of establishing a local presence. Having proven ability to deliver services in a fraction of the time previously needed, ABB Turbocharging is now providing optimised service for customers in Uruguay.
"As we see more customers seeking to work with us over the long term through our customised service support offerings, our commitment to offering 24 hour service and 98% spare parts availability becomes increasingly important. These enhancements to our network improve service delivery and the timely execution on which our customers rely," continued Philipp Exner. "Without exception, our objective is to deliver globally consistent ABB Turbocharging standards of service and spare parts availability at the local level."