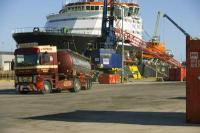 Aberdeen Harbour has recorded a total gross vessel tonnage figure in excess of 28 million tonnes for the third year in succession and an increase in vessel arrival numbers.
In announcing their results for 2014, Aberdeen Harbour Board confirmed a total gross vessel tonnage figure of 28.1 million tonnes, the equivalent of almost 80,000 tonnes of shipping per day entering the port. The harbour also witnessed a 1.3 per cent increase in the total number of vessel arrivals, increasing from 7,834 in 2013 to 7,937 in 2014.
All this activity has contributed to a turnover figure of £28.9million, up from £27.6million, and a pre-tax profit of £12.4million, an increase of 29 per cent from £9.6million in 2013.
The port also continues to experience year-on-year growth in international trade, with 2014 activity increasing by 12% on the previous year and the number of countries with which the harbour directly trades increasing to 41 in 2014. Among the new routes, the Falkland Islands alone saw more than 40,000 vessel tonnes and 10,000 tonnes of predominantly oil and gas-related cargo.
Aberdeen Harbour chief executive Colin Parker, said: "Activity at the port remained strong throughout 2014 and, in particular, we are pleased to see the development of further international links and the continued strength of both our UKCS-related and commercial cargo markets.