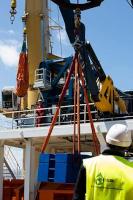 ABIS Holdings Energy Services Ltd has signed an agency agreement to support the development and operation of an offshore supply base on the Spanish island of Gran Canaria.
The UK-based energy services provider will act as the agent for Gran Canaria Subsea and Offshore Base (GCSB), an organisation that operates in the Port of Arinaga, in attracting and negotiating with clients looking to use the strategic maritime port.
An ideal location for operators requiring port facilities ahead of work in West Africa and across the mid-Atlantic Ocean, the location is inside the Canary Special Zone (ZEC), is tariff free and incorporates corporate tax levels of just 4%.
The site includes 20 acres (90,000 square metres) of laydown and storage facilities.
The base offers a suite of services to support the marine industry with repairs, refurbishments and general maintenance while also being in the centre of Atlantic activity making it opportune for project mobilisation.
Francis Kiernan, chief executive officer of ABIS Energy, says, "The base provides all the benefits of political stability within the EU and is easily accessible for businesses serving all areas of West Africa, from Luanda to Morocco. Full laydown and storage facilities are accompanied by full technical and project support services with a high quality trained and certified local workforce."
GCSB is a Norwegian inspired subsea and offshore base with an optimal strategic location for operations all over the world. The base offers a wide range of services adapted to the subsea and offshore sector.
These include; facility support services, port and harbour facilities, ships agent services and access to full technical and project support services.
Odd Arne Tveit, chairman of GCSB says, "Our vision is to create the preferred offshore and subsea hub located centrally in mid-Atlantic with strategic connections to Europe, Gulf of Mexico, West Africa and South America. Bringing ABIS in to support with the port's development allows us to make the most of their management expertise and draws on the extensive experience and knowledge held within the business. The base offers all the facilities businesses would expect to find at a successful port and provides options for safe storage."