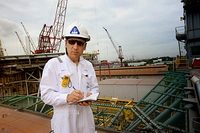 ABS has announced it had zero work-related lost time incidents during 2017. The corresponding Lost Time Incident Rate (LTIR) of 0.00 represents a significant milestone in the organisation's continuing journey to safety excellence.
"Safety is the heart of our mission and remains at the core of all we do, so we are thrilled to realise this exceptional safety record result," says ABS Chairman, President and CEO, Christopher J. Wiernicki. "This achievement adds to our already strong industry-recognised safety leadership. At the same time, we continue to promote safety excellence through ongoing training and process improvements that enable and empower employees to recognise and control hazards in their daily work environment."
ABS has an ongoing safety excellence program which incorporates strong occupational health and safety processes and policies, including its Stop Work Obligation rule authorising all employees to intervene if safety is in question in any aspect of their work.
"A world-class safety culture requires attention and consistent actions to drive positive behavior and change. Globally, ABS employees are mission-focused and passionate about being leaders in safety excellence," says Wiernicki.