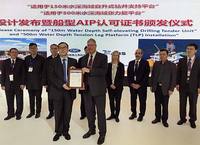 ABS, provider of classification and technical services to the global offshore industry, granted approval in principle (AIP) for a Tension Leg Platform (DSTLP500) design developed by Dalian Shipbuilding Industry Co., Ltd. (DSIC).
"ABS and DSIC have a long relationship and have worked closely on a broad range of offshore projects, semi-submersible units, jackups and drill ships," says ABS Executive Vice President for Global Offshore Kenneth Richardson. "Throughout the development of this concept, the ABS and DSIC teams collaborated using advanced simulation technology and incorporated the latest industry standards with the objective of developing this ground-breaking deepwater TLP hull design."
"Gaining ABS approval is an important step in helping bring this project closer to realisation," says Wenmin Liu, China Ship Design Master and Senior Offshore Technical Expert DSIC. "By working with ABS, we were able to prove the concept and determine that there are no major design or regulatory roadblocks as we move ahead in the development process."
This unit is designed with four pontoons, four columns and eight tendons, suitable for operation in the water depth up to 500 metres, primarily in South China Sea.